Recent and Upcoming Events
The next Board meeting will be held October 24, 2019

at 7:00 p.m. at

Conny Schuster's Residence #41 Mayatan Lake Estates.





May 4th, 2019 – The ninth annual Boat Launch and Roadside Clean-up and Bar-b-que was held. Barbeque was held at Connie Schuster's residence afterwards.
The Implementation Committee for the Mayatan Lake Watershed Management Plan met on May 23, 2019 at the AEP offices in Spruce Grove. The Committee endorsed a project to engage the community in gathering local data using the NatureLynx app developed by Alberta Biodiversity Monitoring Institute. The Committee also endorsed the notion of looking at making the Lakes of Parkland County (LOPC) into a formal organization.
The Third Annual Education Day with Duffield Grade 5 Students in the

Afternoon

at Mayatan Lake Boat Launch was scheduled for May 30th but had to be postponed due to the smoke from the forest fires in Northern Alberta. The event was rescheduled to June 20th, 2019, and again had to be cancelled due to extreme rainfall! We took the lunch that had been prepared to Duffield school and served it to the Grade 5's. Let's hope nature cooperates next year... Thanks to Connie Schuster for a great lunch!
On June 9th, 2019, a workshop was held to build a community purple martin house. The house kit was purchased through Del McKinnon of the Purple Martin Conservancy in Ponoka. The house will be erected on the Sluchinski property near the entrance to Mayatan Lake Estates. A good time was had by all!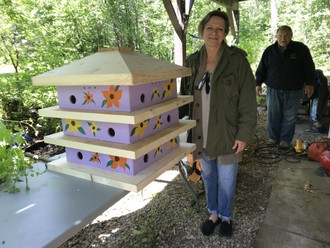 .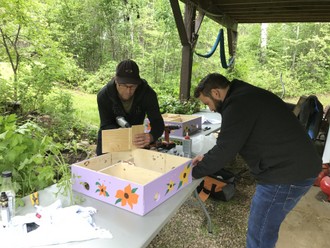 2019 – Annual General Meeting. Fall d

ate to be confirmed.
---
News
The MLMA has received a $2,500 grant from the Land Stewardship Center for a project entitled:
Projects in Support of Implementation of the Mayatan Lake Watershed Management Plan



The goal of the implementation project is to improve or maintain the health of the

watershed, consistent with the goals of the Water for Life: Alberta's Strategy for Sustainability,

and with the North Saskatchewan Watershed Alliance's Integrated Watershed Management

Plan. This project aligns with the mandate of the Mayatan Lake Management Association, which

is dedicated to undertaking actions to preserve and protect the Mayatan Lake watershed.

The implementation of the Mayatan Lake Watershed Management Plan will be a multi-phase

process. The Plan contains 39 Policy, Technical, and Stewardship recommendations. The

following table of MLMA activities in support of the recommendations shows our ongoing

commitment to the Plan's implementation.